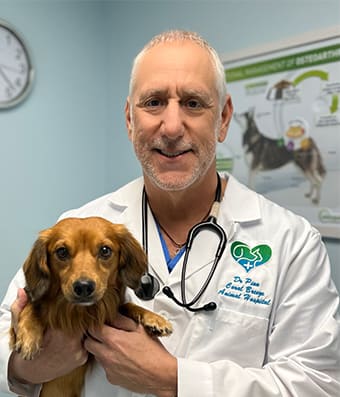 Dr. Pion
Medical Director
Dr. Peter Pion is a 1989 Graduate of The University of Florida and a big Gators fan. Practicing small animal veterinary medicine for 35 years and counting, he has 2 cats of his own at home named Marshall and Bella. A local legend, Dr Pion owned his own practice in Boca Raton Florida for 17 years before he eventually sold his practice and started working as a relief veterinarian.
He started working for Coral Breeze Animal Hospital in May 2022, and enjoyed his time with us so much, that he decided to become our full-time Medical Director. He really loves that everyone at Coral Breeze has the same goal, first-class pet care.
Dr. Pion enjoys hitting the gym on his time off and driving his Jeep on the weekends. He is a proud father of his 19-year-old son, who goes to Johns Hopkins College and plays for the football team, regularly flying up to be a supportive dad at his football games. He cherishes the special bond between humans and animals, and getting to see people that love their animals deeply every day.